How Guarded ID Works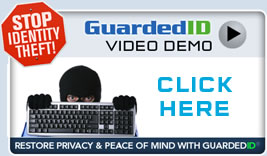 GuardedID® takes a proactive approach to stopping malicious keylogging programs by encrypting every keystroke at the point of typing the keys, and rerouting those encrypted keystrokes directly to your Internet Explorer browser through its own unique path. GuardedID® bypasses the typical places keyloggers normally reside, thereby helping to eliminate your vulnerability to keylogging attacks, which could compromise your personal information causing you financial losses.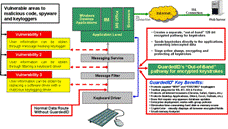 GuardedID® is designed as a toolbar for your browser, always present when your browser is launched. With GuardedID®, you can now work offline securely as well as email, browse, shop and bank online with confidence knowing that each and every keystroke is protected and not being transmitted to an awaiting Identity Thief. With 12,000 keyloggers known to be in distribution currently, it is only a matter of time before one affects one of your computers.
Secunia has tested the ability of various high-profile Internet Security Suites to detect exploitation of vulnerabilities. Their report proves that Anti-Virus software is not enough to stop keyloggers.
For more information about GuardedID® see our Whitepaper.
You can purchase GuardedID® in our SECURE ONLINE STORE.